Patient Experience & Digital Stories
Introduction
We all learn from our experiences – good or bad.
As a learning organisation, storytelling is a central part of our mission to keep improving and to help train the next generation of health care professionals.
As such we are truly committed to listening to our patients, and staff, and using their experiences to share good practice and, where necessary, advocate change to improve our services.
Stories can be from patients, relatives or staff, and are about their first-hand experiences.
Such is our belief in the value of storytelling, our bi monthly board meetings always begin with a patient story aimed at highlighting good practice or any area that needs to be improved, and often leads to an in-depth discussion amongst board members, resulting in change for the better.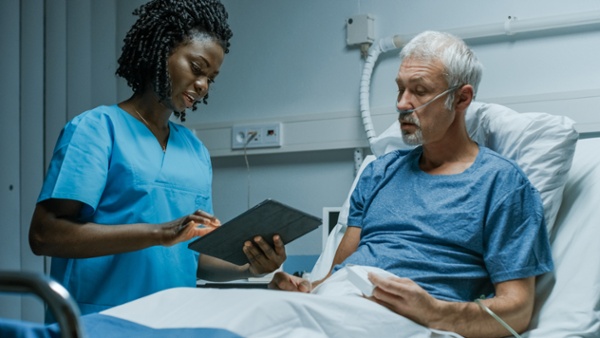 How do we tell your story?
The stories are recorded digitally by trained staff members.
They are comprised of voice recordings put together with images to create a short video.
The model has three basic principles:
It is a first person story.
It is always short – usually under 3 minutes.
The storyteller remains the director of the story but can be anonymous if they choose to be.
What happens once they have been recorded?
Consent to share these stories is fundamental to the whole process and, depending upon the level of consent granted, they will either be used within the organisation and/or shared with the public.
How do I share my story?
Patient Advice Liaison Service (PALS) teams across our hospitals can support the development of a story. Just contact the relevant hospital and ask to speak with a member of its PALS team.
The history of digital storytelling in Swansea Bay
Swansea Bay UHB was the first in the country to see the value of digital storytelling and has since led the way and inspired others to follow suit.
The first step was appointing an Arts in Health coordinator who had a particular expertise and passion within the digital story world. This enabled the health board to start to collect some really powerful patient stories that had come from high risk cases.
Patients had felt unhappy about how they had been managed through raising their concerns and the positive effect of those stories was profound. They were a better way of resolving a patient's concerns than having a written response, because they were much more personalised. The patient felt as though they were able to put their version across, which is something quite hard to do in writing.
The process also proved to be of great benefit to those clinicians, managers and individuals responsible for providing that care that was being called into question. It was far better received and was far more likely to result in a change of practice.
Hazel Powell, Deputy Director of Nursing and Patient Experience, said: "Since this early development we have seen digital stories used across the health board to drive service improvement.
"It's a creative and innovative way of utilising patient stories to touch the hearts and minds of staff, and actually change practice."