Pharmacists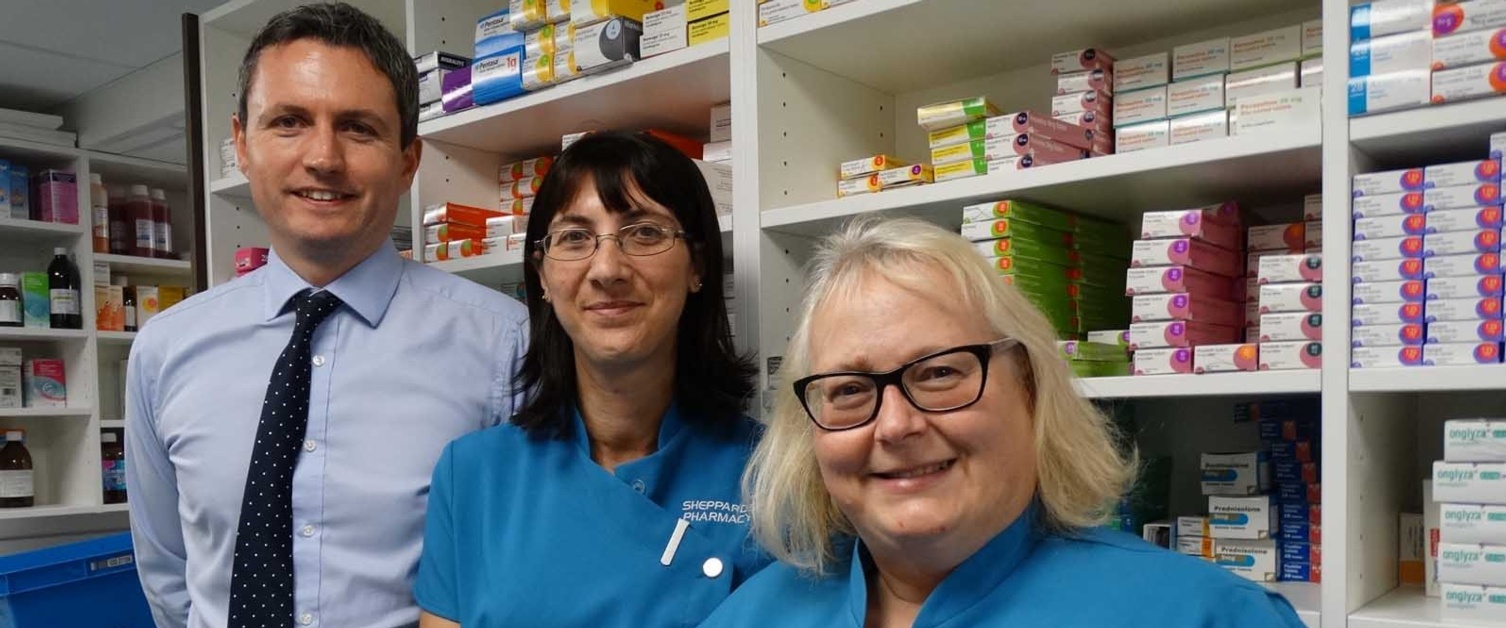 COVID-19 Update: PHARMACIES
Please be aware that because of the current pressures, local pharmacies may operate different opening hours to accommodate additional work. They may open later, close earlier, or close during the day (e.g. noon to 2pm).
We apologise for any inconvenience this may cause.
You can help our pharmacies by:
* Not visiting a pharmacy if you or anyone in your household has a high temperature or continuous cough
* Plan ahead where possible, try to order your next prescription seven days before it is due
* Put your contact details on your prescription so pharmacies can let you know when your medicines are ready to collect
*If you are self-isolating please ask family, friends or neighbours to pick up your medications for you. If you don;t have anyone who can, speak to your community pharmacy to see how they can help
*If you are well and able to visit the pharmacy yourself, think about how you can help family, friends and neighbours who are self-isolating
General advice
Visiting your local pharmacy is a great way to access prompt advice and treatments for common conditions, especially after GP surgeries have closed for the day and on the weekends.
Some of the work traditionally done by GPs is now done by pharmacists instead. This includes giving prescription-only medication for a number of minor ailments without the need to see a doctor. And, like other medications in Wales, these are also free.
You have to register with the pharmacy to use the scheme, but the process only takes a few minutes.
Consultations are carried out in a private room and if the pharmacist decides you still need to see a doctor they will refer you.
Patient and public survey for Swansea Bay University Health Board pharmaceutical needs assessment (PNA)
We are inviting you to tell us about pharmacy services in your area. This is to help us plan for services for our current and future patients to make sure they meet your needs, using a process called a 'pharmaceutical needs assessment'.
Your answers will help us identify if there are any service gaps, for example whether a pharmacy is needed in a particular area, or if more pharmacies need to provide a particular service.
Looking to the future, we will look at what may change over the next five years, for example more houses being built, and therefore whether there will be enough pharmacies in the right places providing the services that people need.
Your views are important to us so please spare some time to complete this questionnaire. We estimate it will take you about 10 to 15 minutes to complete.
The questionnaire is anonymous and any information you give will not be linked to you.
Follow this link to complete the survey.
Common ailments covered by the scheme
Acne

Athletes' foot

Backache (acute)

Chickenpox

Cold sores

Colic

Conjunctivitis (bacterial)

Constipation

Dermatitis (acute)

Diarrhoea

Dry eye

Haemorrhoids

Hayfever

Head lice

Indigestion/reflux

Ingrowing toenail

Intertrigo/ringworm

Mouth ulcers

Nappy rash

Oral thrush

Scabies

Sore throat/tonsillitis

Teething

Threadworm

Vaginal thrush

Verruca
From 1st December 2019, 20 local pharmacies are also offering a see and treat service for patients over the age of six with sore throats. They offer a while-you-wait swab test to determine if the sore throat is caused by a bacterial infection. If it is, you can be offered antibiotics directly by the pharmacist, without needing to get a prescription from a GP. To find out more, please click on this link to see the list of pharmacists participating in the see and treat sore throat service.