Spinal injections/ Spinal Surgery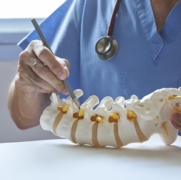 Following assessment in CMATS your clinician may decide that you need to have a scan of your back or neck to investigate for nerve compression. This can cause symptoms such as leg pain ('sciatica'), or arm pain ('brachial neuralgia'). Sometimes symptoms also include numbness; pins and needles or weakness. If the scan confirms a potential nerve compression in your neck or back, and the pain in your arm or leg is severe, your clinician may organise for you to have a Spinal injection or may refer you on to see a Spinal Consultant to consider treatment options including spinal surgery.
The British Association of spinal Surgeons have created a very comprehensive website which provides detailed information about common spinal complaints and treatments that may be offered to assist these complaints. Your Clinician may provide you with a potential diagnosis and direct you to an area of the website which may provide you with specific information.
Follow the link below to access their website :