Health board staff awarded for innovative healthcare advancement work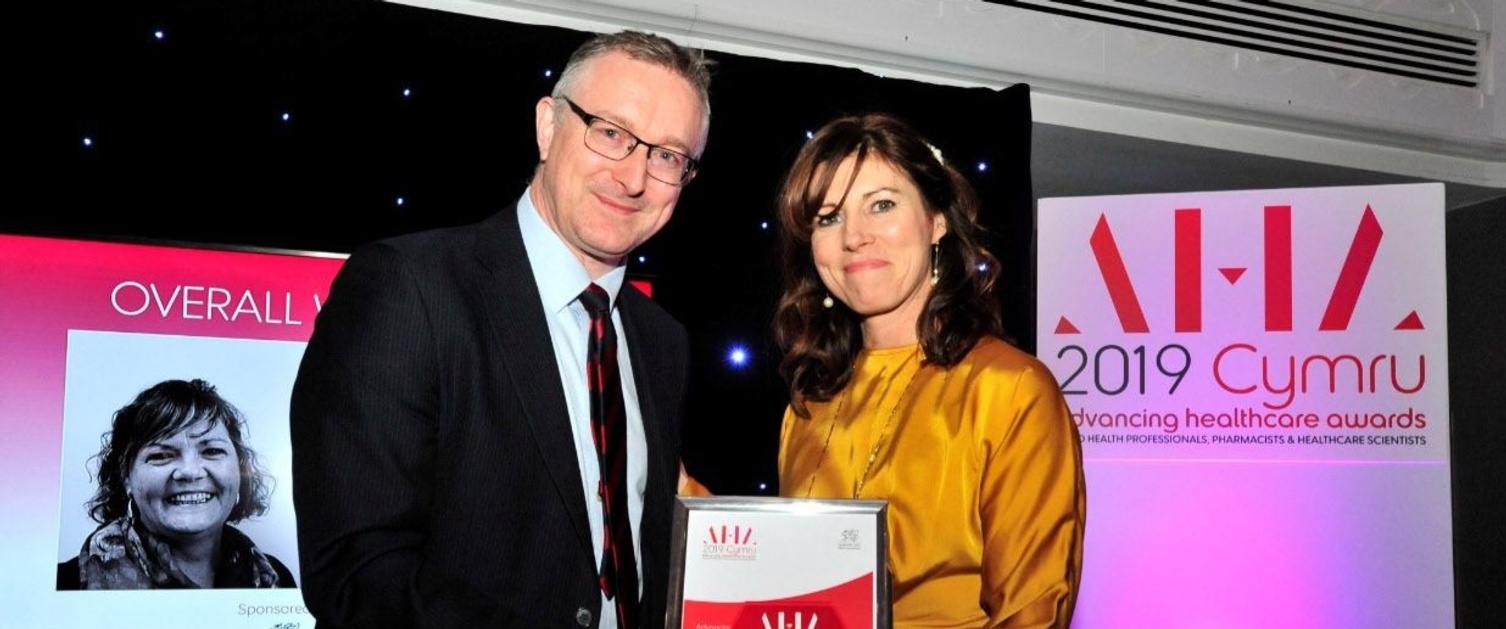 Above: Amanda Atkinson receives the overall winner award from NHS Wales Chief Executive Andrew Goodall. Image credit: John Behets.
Swansea Bay staff have been recognised for their innovation, compassion and leadership at the 2019 Advancing Healthcare Awards Wales.
Health board workers took home four of the eight category prizes at the inaugural awards, which celebrate allied healthcare professionals, healthcare scientists, pharmacists and those who work alongside them.
Pharmacy technician Claire Page was named one of the two winners of the support staff member of the year award. Sue Koziel, clinical lead for speech and language therapy for preschool, was given the award for improving public health outcomes, while the health board's neurophysiology department was given the award for making every day count.
Nominated for outstanding contribution to research delivery was physiotherapy consultant Ceri Battle. Audiologists Nicola Phillips and Natalie Phillips were also nominated for the award for leadership and change management.
The overall winner of the night, however, was head of paediatric occupational therapy Amanda Atkinson, who was also named winner of the award for leadership and change management.
Her work redesigning how Swansea Bay's paediatric occupational therapy teams operate has transformed the service - and reduced waiting times from more than nine months to around eight weeks, nearly half the government's target of seeing patients within 14 weeks of referral.
Amanda explained, "Before the changes, we had three teams working with three different local authorities, and they were all working very differently. We weren't sharing any skills or resources as we could be.
"My job was to make it a more equitable service for staff and patients, and make sure the population of Swansea Bay was receiving the same service wherever they live."
She added: "I am the lead but I didn't make these changes by myself. Every member of my team deserves recognition for this.
"Even though it was me that received the award, really it was everyone who won it, not just me. It was for them.
"The positive feedback from parents and children has kept us motivated too.
"We've tried to involve every member of staff in every decision, and we've been able to evolve by reflecting and acting on what parents and children have been telling us."
Christine Morrell, deputy director of therapies and health sciences, said: "Amanda has made an outstanding contribution to the paediatric occupational therapy department and is a role model for us all.
"As well as transforming services for children, she has really built a strong team."